Direct flights to Malaysia
Are you headed to Malaysia for vacation? This vibrant, sunny and diverse country has a lot to offer – learn how to find the best airline tickets here.
To know Malaysia is to love Malaysia. A bubbling, bustling melting pot of races and religions living together in peace and harmony. One of Malaysia's key attractions is its extreme contrasts. Towering skyscrapers look down upon wooden houses built on stilts, and five-star hotels sit several metres away from ancient reefs.
The beautiful country of Malaysia has two distinct parts and is separated by the South China Sea. The top half known as Peninsula Malaysia borders Thailand and Singapore and attracts the most visitors with its diverse landscapes including beaches, rainforest, and cities.
Eastern Malaysia is known for its thick jungle, abundant wildlife and in particular the orangutans in Borneo and Mount Kinabalu, the highest mountain in South East Asia.
Fly to Malaysia – choose a direct connection
There is a great choice of Asian, Far Eastern and European airlines which fly into Malaysia, where the main international airport is located in Kuala Lumpur. In the compilation below you can find a bunch of airports that offer regular direct flights to Kuala Lumpur – both international and domestic.
Direct flights to Malaysia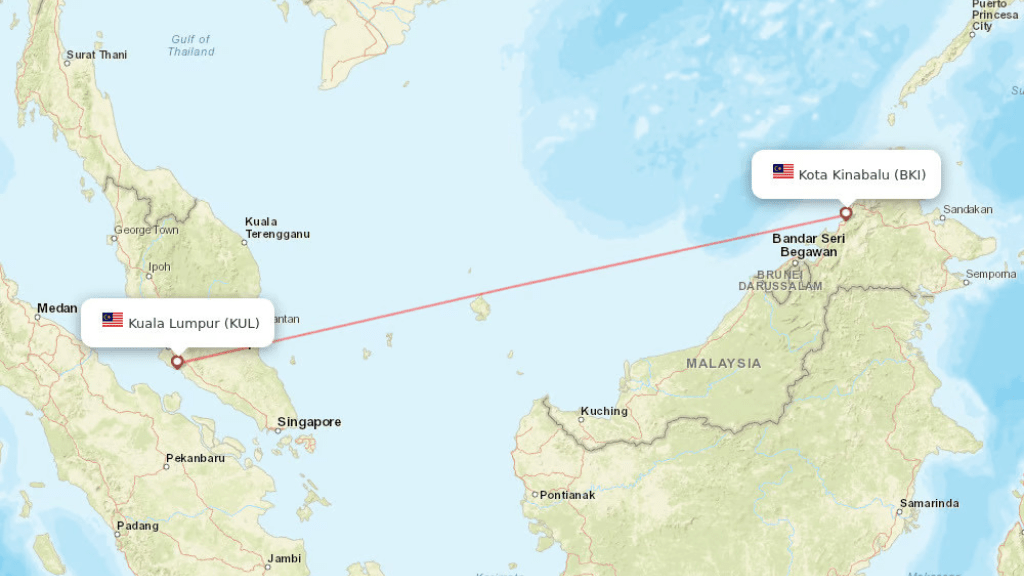 Domestic flights – most popular routes
Experience the beauty of Malaysia
Malaysia boasts some of Asia's most gorgeous beaches including the resort of Langkawi with its stunning palm-fringed tropical beaches, Penang and the gorgeous Perhention Islands with white dazzling sands and crystal clear seas situated off the north east coast. Venture into the dense jungle of Taman Negara National Park located in the Peninsula's interior.
The jungle is more than 130 million years old and believed to be amongst the oldest in the world with towering trees, giant insects and a smattering of wildlife including elephants, tigers and monkeys. Discover Malaysia's historical cities including the contemporary capital Kuala Lumpur, colonial Penang and charming Kuching.
The expansive Mount Kinabalu National Park is full of tropical forests and of course the mountain itself, explore the incredible marine life at the Sipadan reef and head to Sandakan to visit the Orangutan Rehabilitation Centre at Sepilok, one of only 4 in the world.
How to make flying to Malaysia cheap
Sometimes indirect flights can offer the cheapest flights into Malaysia rather than booking a direct flight, try our flight search box to look for the latest deals on cheap flights to Kuala Lumpur or great value low cost flights.
Usually if you book well in advance you can take your pick from a great selection of cheap flights, however it's also possible to get some good deals on lastminute flights as airlines release their special offer fares throughout the year.
Climate and weather – warm all year long
Malaysia has a hot, humid tropical climate with two monsoon seasons, one between October and February and the other from April to October; the latter is characterised by thunderstorms. Temperatures and humidity are high all year round, but it is slightly cooler in the mountains.
Flights to Malaysia